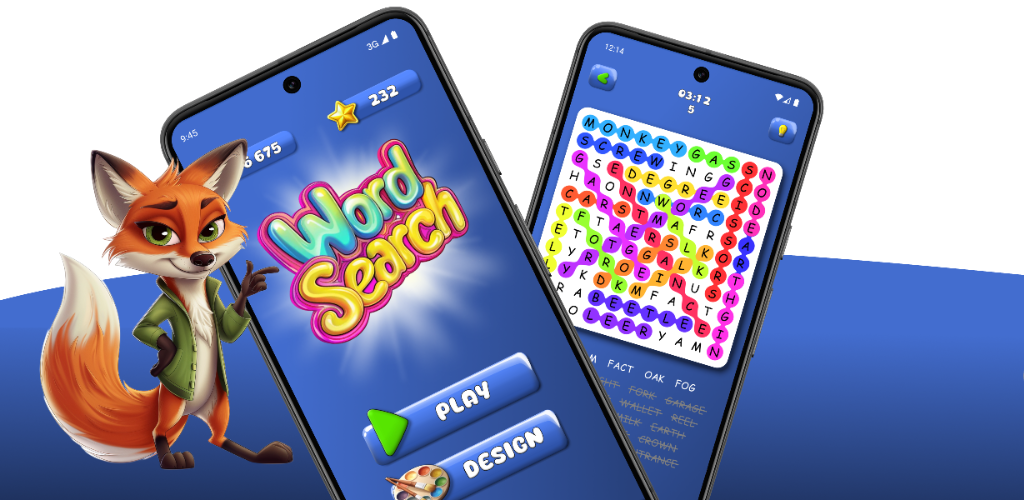 Words
Infinity Crossword Puzzles App
Search, seek, and find all the words hidden in Word Search, the amazing free to play puzzle game. Join thousands of people who love to search for words in different languages in one of the most enjoyable free puzzle games available on Android. Start to play, find all words, and beat the timer now for free by yourself or with friends. 🔍👫

🔎 How to Search for and Find Words in this Free Puzzle Game 🔍
In the Word Search game, start a new puzzle and select different languages and categories such as animals, colors, food and drink, geography, or even plants. When the puzzle in this free game appears, you can start to play and seek & find all the words from the different categories If you find a word, select it to remove it from the list of searched words. Connect the letters to select a word. The game is finished when you found all 25 words.

Endless fun for you and friends with different levels of difficulty & languages 🌍
Are you ready to become a pro in being able to find all words? In Word Search, the word puzzle game, you can choose between 8 levels of difficulty, play, search & find with or without timer and compare your scores with your friends and people around the world. All puzzles and words are automatically generated by the Word Search app for endless fun. You can also play in different languages to improve your language skills and learn the correct spelling. Choose your favorite language and become a pro in the game. Start now and find words of different categories in one of the most enjoyable word puzzle games available.

⭐NEW⭐NEW⭐NEW⭐
There are 5 new search categories you and your friends can choose. In Word search, the free to play puzzle game, you can seek and search only animals, colors, food and drink, geography, plants, or combine different categories. This update you can find in the settings for the English language.

Features:
♾Infinity puzzles
🌍14 languages (English, German, Spanish, French, Portuguese, Italian, Swedish, Norwegian, Finnish, Dutch, Danish, Czech, Polish,Russian)
🏆Google Play Games: Leaderboards and Achievements
↕️8 different word directions within the puzzles
⏱️Play with or without Timer
🏅Offline high score
🤚in English there are 5 new word categories to choose from in the puzzles (Animals, Colors, Food and Drink, Geography, Plants)

Seek and find all words in the different categories such as animals, colors, food and drink, geography, or plants and solve all puzzles.
Are you a pro & can you beat the timer and find all the hidden words in Word Search, the free to play puzzle game?

🔓You can unlock this free app to play without advertisement and with unlimited hints.